Discover Your Beauty! Show Your Curves & Lift Your Booty! 
Enhance your aesthetic beauty by using an all-natural Woman Butt Lifter Shorts! 
Comfortably stand out from the crowd and let your curves put a "wow" factor on other people's faces! 
Unnatural, expensive butt injection enhances can be dangerous for your body. Injecting chemicals through your buttocks can be a short-term solution, but can possibly be a long-term problem due to its toxicity.
Testimonial 
" After my pregnancy, I've noticed that my body started degrading, especially around my buttocks, and that really affected my self-esteem. Thankfully I found this woman Butt Lifter Shorts and that has really made me more confident than ever! I couldn't recommend it enough to all the new moms out there! " - Megan R.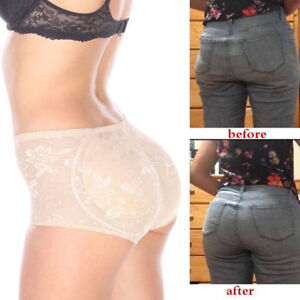 Enhancing Features & Alluring Benefits 
Superb Waist Control: The Woman Butt Lifter shorts are precisely designed to lift your buttocks and flatten your waists without any unconvenient tightness. Make your abdomen look slim and graceful which will give you those sensual curves. 
Seamless Design: The Woman Butt Lifter is well made with exquisite stitches and invisible under any layer of clothing without any issues. 
Natural Enhancer: Easily lift your butt and create an alluring shape. The Woman Butt Lifter will conveniently make your waists look slimmer in the most comfortable way possible.
Specifications
Material: Spandex
Fabric Type: Broadcloth
Thickness: Comfortable and standard
Yeah!
Doesn't lie. It will give you a lift for sure. I've always had a cute frame/figure, but this def gave me the lift I needed. Follow my insta @yannaamariaa, these pants fit PERFECT after I put on the lifters, can't see it or anything. Def have to wear a thong (or no undies) if you plan on wearing it.
Also, not sure why everyone complained about it being too small, I think you want a smaller/tighter fit so it does work right and lifts your butt. Complete 100% difference in your butt, lifts your butt, makes it stick out, does not look un-natural. Literally looks amazing! I am buying more.
I am very slim and I don't have a booty at all and this gave me a bit of a fuller butt and it looks great in fitted dresses the best. Since I don't have a butt at all the lines doesn't show much but it makes my butt look better in just about everything. If u wear leggings it have to be a thick material because it can make u look like u have implants that went wrong lol I wouldn't recommend if yu have an big booty already because it would just make it look weird it's even more noticeably with a huge butt
Wow
This is my second time buying this I lost my first one I love it
It will lift nicely and has a great tummy tuck as well. Looks really nice while wearing a dress, skirt or pants. It is all stretchable material and has a cute lace around the thighs. These are boy short style panties to lift the buttocks and flatten the tummy. I really recommend this if you are looking for a quick fix for a special outfit. I would also recommend ordering a size or two larger since they are Asian sizes. I am very content with this purchase.